I finished my Highland Reel socks today, just 12 days after our return from Scotland.  I'd been saving this yarn (Blue Moon Fiber Arts Socks That Rock in the Scottish Highlands colorway) since Mother's Day (because my husband is wonderful and buys me yarn for special occasions).
I started the first sock on the plane to Newark, and didn't pick it up again until the flight out of Edinburgh. Too many interesting things to see and do while I was actually on vacation to knit. I finished the first sock while sitting in the Houston airport (I think, those were a rough couple of days), and started the second one a few days after our return home, making this the fastest pair of socks I've knit to date.
Technical specs:
Socks that Rock is a great yarn, very tight twist, so it doesn't split like other plied yarns might, and the medium weight makes socks a quick knit. The colorway is wonderful, too. I was thinking of driving through the Highlands, seeing the mountains covered in blooming heather with every stitch.
I enjoyed this pattern because I didn't have to refer to it much. The stitch pattern is simple enough that I could read the knitting and know what I needed to do on the next row, and by the second sock I had the heel and toe construction down pat.
I'm not sure about the combination of this yarn and a short row heel, as I still had gaps along the seam, but I'm willing to try a short row heel again, with maybe a different technique. It certainly seems faster than doing the heel flap + gusset construction.
I was not crazy about the pointed toe, however. It looks funny on the end of the sock, or possibly, it just looks odd on my feet. Regardless, it's another technique I've learned, and that's one of my favorite things about knitting, with every project there's something new.
And for those of you wondering why they're called Highland Reel, here's an example: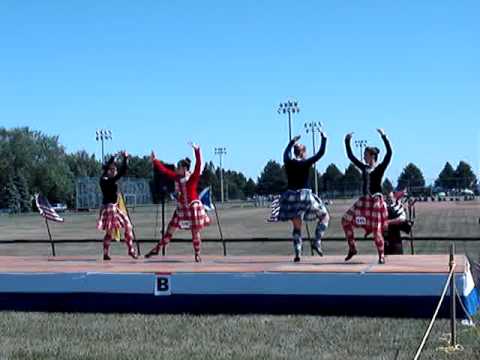 Round and round.